Dear Real Estate Agents,
There was a lot of well deserved outrage about StreetEasy's business decisions in 2017.  As we all know, the straw that broke the camel's back was the MONOPOLY TAX they started charging on July 18th which caused brokers to pull almost half of their listings off the site.
But we are starting to see the real consequences of these disgraceful greedy business decisions which are hurting consumers and brokers alike.
In fact – as the graph shows – StreetEasy's traffic has dropped 50% since June, and has dropped every single month since their monopoly tax was implemented in July.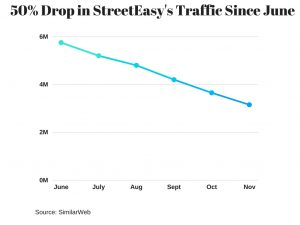 Competitors are really smelling weakness and spending more and more money.  In addition to the New York Times taking the RLS feed, The Real Deal is also going to take the RLS feed and become a listing portal! 
And here is an example of ads now running from RealtorDotCom. They are making no secret as to whom their target is.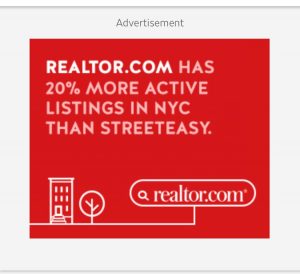 Average Consumer Still in The Dark About This. 
But because consumers usually search for an apartment at most once per year  – unlike the frequency of say, ordering on Seamless or ordering an Uber – the average consumer is still in the dark about most of this.
This is why it is imperative that we real estate agents continue to educate consumers.  Frankly, with 50% less listings and 50% less traffic, StreetEasy is no longer the "go to" marketplace.  Their relevance decreases a little bit each day.  Consumers should know this.
So what are we all going to be doing about it?
A lot. Together, our voice will only become louder over time.  And if yours is not loud enough, don't worry, mine will make up for it 🙂
We are working hard on a new website to launch in early 2018 which will ensure these greedy VC funded billion dollar companies don't turn NYC real estate into just another competitive auction-based feeding frenzy, where brokers have to "pay to play", and shell out more and more cash to the "monopoly powers" that be.
But we need your help.  We are 100% confident that with your help, and a little grit and perseverance on our part, we will keep the greedy corporate types in check, and ensure a freely flowing NYC real estate marketplace so you can focus on doing what you do best:  helping clients buy, sell and rent!   
For now, we will need your help with these three things:
1. Your feedback when I launch the new site in 2018.  I will desperately need broker's feedback on my website.  You know best, not StreetEasy, not anyone else.  In fact, my decision to launch a new website is because of your feedback.  The name "Leasebreak" – many of you argued  – would get me only so far.  I took that feedback to heart. Now I will need your feedback again so we can perfect the new site.
2. Send us your newsletters…so we can market them for free! The idea is to have one place where consumers can go to see all of your amazing insights.  We will put them on our new website in a special "Expert" section.  As our traffic grows, you should start to get free leads from consumers who read your newsletters, and maybe you will get some good PR too.  Whatddya think? If you are interested in having us include your newsletters for free in a special "expert" section, please let me know.
3. Follow Me On Instagram, Facebook, Twitter…Let's turn up the Heat!  Follow me on my new Instagram account and Twitter. Both @philiphorigan  Let's turn the heat up in 2018 and shine a light on those who are not conducting business transparently and fairly, hurting consumers and brokers in the process.
This will probably be my last update in 2017.  Have an amazing holiday season and a Happy New Year, and here's to you all "killing it" in 2018!
—————————
To remind you, here is the Facebook group where brokers discuss the current changing landscape and share tips.  The Facebook Group has hundreds of agents as members!
And here are my previous emails about the changing landscape:
Agents To StreetEasy: Thanks for Making Me Stronger – October 23rd, 2017 
Brokers Unite: RLS "Opt-In" Surges – September 26th, 2017
StreetEasy Bows To Corcoran (After Elliman) – September 8th 2017
Zillow/StreetEasy Stock Down 20% – August 17th 2017
5 Ways We Can Crush The StreetEasy Monopoly – August 3rd 2017
Agents To StreetEasy: No, We Don't Need You – July 18th 2017
Our Response to StreetEasy's Greed – July 13th 2017
Phil Horigan
Dedicated NYC Real Estate Agent for 14 Years
Founder, Leasebreak.com